Remoterig 1258MKII (RRC) Setup for the Kenwood TS 480 Control Head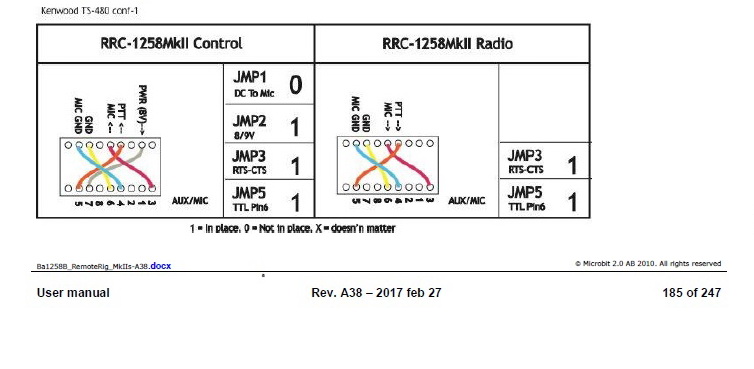 You will need to open your RRC box and configure it for the Kenwood TS-480.
Get a copy of the RRC manual at:
Page 185 is shown above. Use the left-hand illustration.
Attach the wires to the 18-pin DIP socket per the drawing.
Set the numbered jumpers on/off per illustration.  1 = on; 0 = off.
Detailed descriptions are in manual.
Download the  latest Microbit Setup Manager at http://www.remoterig.com/wp/?page_id=88
Follow instructions to locate your RRC on your LAN
Change the IP address to be in your router's range

Typically it would be 192.168.x.y;  x is normally 0,1,2;  y can be your choice of 2-250

Netmask is always 255.255.255.0
Gateway is your routers IP-address, Typically 192.168.x.1
You may need to download the correct version of software for the RRC.

We are NOT using the latest software version until later.
Current installed version is 2.38
Once the RRC  IP-address is set, you can configuure the RRC parameters via a boowser.
On a browser, connect to your RRC IP-address (example: 192.168.1.227)
In the left-hand column, click on Info and Status screens for information.
Modify parameters as needed.
<<list of parameters will be added here shortly>>
291 total views, 3 views today